JAN KERN'S BIO: As an author, speaker, writer mentor, and life coach, Jan Kern is passionate about story—not only how we live it with hope and intentionality, but also how we write it with craft and finesse. She is the author of the Live Free series (Standard Publishing), launched in 2007 with Scars That Wound, Scars That Heal—A Journey Out of Self-Injury, a 2008 ECPA Gold Medallion finalist.
In the series, she intertwines a journalistic style with fiction techniques to tell the true stories of teens and young adults who struggle with pain and brokenness. She is currently writing a small group study around the topic of human trafficking for Agape International Missions and several nonfiction projects for women. For most of her married life, she has served alongside her husband Tom at a residential ministry for at-risk youth. She cherishes family time with her "kids"—Sarah, Danny, his wife Marci, and her grandbaby, Juliette.
Link: http://www.jankern.com
JAN KERN (4) Book Giveaway
(2) signed copies of Take A Closer Look--50 Eye Opening Meditations for Women
(2) signed copies of Scars That Wound, Scars That Heal--A Journey Out of Self-Injury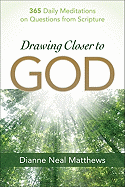 DIANNE MATTHEWS BIO: 
Dianne has written numerous devotionals, magazine articles, newspaper features, and stories for compilation books. Her work has appeared in Focus on the Family. The quiet Hour, LIVE, The Christian Communicator, and on websites including CBN.com she is a correspondent for FindingGodDaily.com and a contributor to several blogs. Her four daily devotional books include The One Year Women of the Bible (which won her the 2008 Writer of the Year Award at the Write-to-Publish Conference), and Drawing closer to God: 365 Daily Mediations on Questions from Scripture (Baker, 2010).
Dianne enjoys teaching at writers' conferences and is a 2006 CLASS graduate. She is a member of Advanced Writers & Speakers, Christian Authors Network, and Toastmasters International Currently living in Salt Lake City, Dianne and her husband, Richard, have three grown children and two adorable grandchildren.
DIANNE MATTHEWS (4) BOOK GIVEAWAY
(2) The One Year Women of the Bible 
(2) Drawing closer to God: 365 Daily Meditations on Questions from Scripture
***MANDATORY MUST ANSWER QUESTION BELOW TO BE ENTERED IN THE DRAWING****
We've talked about books how about movies?
Do you have a Favorite Christmas Movies? Movies you enjoy year after year! Ones that get you in the spirit of Christmas!
********DISCLAIMER: Entering the give away is considered a confirmation of eligibility on behalf of the enterer in accord with these rules and any pertaining local/federal/international laws. Void where prohibited; odds of winning depend on number of entrants.
This giveaway is open to US and Canada only. This giveaway is sponsored by the author and is in no way affiliated with Facebook or Twitter.
Winner will have 3 days to respond to email with your name and address - If we haven't heard from you another winner will be picked. ****