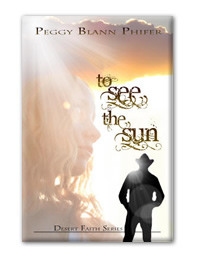 ABOUT AUTHOR: Peggy Blann Phifer 
Peggy Blann Phifer is an author and columnist, book reviewer and author interviewer, whose work has appeared on various Web sites and writer periodicals both in print and online. She is also an avid reader who loves to escape by diving between the covers of a good book. Peg enjoys handcrafts of all kinds and her home shows off some of her work, though most end up as gifts for friends and family. A retired executive assistant, Peg now makes her home in southern Nevada with husband of 25 years, Jim.
TO SEE THE SUN is her debut novel, released January 2012
Contact her at her website at: http://peggyblannphifer.com
Visit her blog "Whispers in Purple" at http://www.whispersinpurple.com
Facebook.com/pegphifer
Twitter.com/pegphifer
ABOUT BOOK:  Pregnant and widowed hadn't been part of her "happily ever after" dream. And now, someone was trying to kill her . . .
Erin Macintyre never expected to be a widow and a new mother in the same year, anymore than she expected mysterious notes, threatening phone calls, and a strange homeless man who seems to know all about her. The thought of raising a child without a father is daunting enough—worse when you have no idea who might want to harm you. Put an old flame into the mix, and her life begins a tailspin into a world she never knew existed.
When P.I. Clay Buchanan, stumbles upon Erin at her husband's gravesite, he's totally unprepared for her advanced pregnancy. Her venomous reaction at seeing him, however, was predictable. But Clay can't let her distrust, or his guilt, get in the way—not when he has evidence that proves Erin's life is in danger.
With few options left, Erin begrudgingly accepts Clay's help . . . and it just might be her undoing.

Read the first chapter at: http://peggyblannphifer.com/my_books.htm
Buy Links:

MANDATORY PLEASE ANSWER ONE OF THE FOLLOWING QUESTIONS TO BE ENTERED INTO THE DRAWING!
1.Erin and Clay live in Las Vegas. To most of the world, my adopted home town is thought of as "Sin City." Yet people like Erin and Clay live and work here, raise their families, go to church and school, just like folks in any other city. I wanted to show that. Pre-conceived ideas. Ever had any? Things you "assumed" were so but found out they weren't? Share some that really surprised you. The times when "things aren't as they seem" happened.
2. If you've never been here, what comes into your mind when you hear "Las Vegas?" If you havebeen here, what pre-conceived images were blown away when you arrived? If any. Where did you go? What sights did you see? Were you pleased, or disappointed? Don't worry, I won't hold it against you
********DISCLAIMER: Entering the give away is considered a confirmation of eligibility on behalf of the entered in accord with these rules and any pertaining local/federal/international laws. Void where prohibited; odds of winning depend on number of entrants.
This giveaway event is open to USA & Canada Residents Only!! This giveaway is no way affiliated with Facebook or Twitter.
Winners will have 3 days to respond to UP-DATE YOUR PROFILE with your mailing information- If we haven't heard from you another winner will be picked. If you have ALREADY UP-DATED your PROFILE to include your mailing information!! You are all SET!! Do nothing!
LAST DAY TO ENTER DRAWING August 30th*** WINNERS ANNOUNCED ON THE FRONT PAGE OF TBCN by Sept 3rd